Any time I receive gifts, I ask people to refrain from using wrapping paper and to reuse or recycle materials instead. This is very important to me, since I think wrapping paper is a terrible waste of trees.
Some creative eco-minimal gift-wrapping ideas are: using part of the gift as the giftwrap (e.g. linens), using newspaper, maps, other fabric (curtains you were going to throw out), clothing, posters, washed and dried chip bags, etc.
Here are some creative ways to decorate gifts using recycled materials. Click any of the pictures to open a new window with instructions.
Four Different Recycled Material Bows
- you can use string or a needle and thread instead of metal brads
Origami Flowers
- Use colourful magazines or used post-its
Another Recycled Bow
- Use magazines or old wrapping paper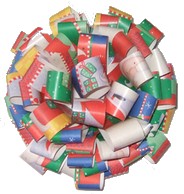 Yet Another Recycled Paper Bow
- Magazines work best
Bow (Brooch) from Reused Soda Cans
- can therefore be disassembled and recycled afterwards!
Some artist's interpretations
- the brown paper + magazine cut-outs is really creative!
Lots of paper crafts
- use magazines
Flower Garland from magazines
- can be downsized to be used as a bow
A collection of ideas on Green gift-wrapping
Some of these ideas are eco-friendly
All sorts of crafts with recycled materials
The picture at the top of this post is of two gifts I wrapped for Christmas 2008. The one on the left uses chip bags for the bow and ribbon that I had received on a previous gift (I keep EVERYTHING). The right one uses "ribbon" cut from brown mail paper from a gift I received in the mail, and magazine strips for the bow.